SNAP TITE BOWL HOLDERS AND SCATTER SHIELDS
The holders and shields are made out of very tough PVC and the mounting hardware is stainless steel. They will easily attach to any welded wire or rod cages. PLEASE NOTE: The small PVC clamp piece may be positioned so that it curves TOWARD the cage or AWAY from the cage to clamp on wire such as 1/2" X 1/2" welded wire. Use the position that clamps the best on your cage.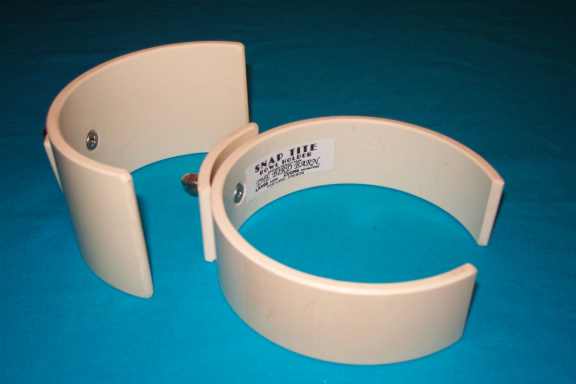 3 INCH BOWL HOLDER OR SCATTER SHIELD $5.00 EACH
4 INCH BOWL HOLDER OR SCATTER SHIELD $5.50 EACH
5 INCH BOWL HOLDER OR SCATTER SHIELD $6.25 EACH
6 INCH BOWL HOLDER OR SCATTER SHIELD $7.00 EACH
Shipping costs for our products are the actual UPS ground rates except for Lake's products which have promotional rates of about 1/3 less. The packaging charge for each box is $1. Shipping costs are available per each order upon request. All prices are subject to change without notice.
TO ORDER FROM US, E-MAIL US WITH YOUR PHONE NUMBER AND A GOOD TIME TO CALL USING "TBB@thebirdbarn.biz" AND WE WILL CALL YOU BACK FOR YOUR ADDRESS AND PAYMENT INFORMATION. PLEASE PUT "TBB ORDER" IN THE SUBJECT LINE SO WE DO NOT MISS IT AND DO NOT SEND PAYMENT INFORMATION BY E-MAIL AS OUR SITE IS NOT SECURE. IF YOU WOULD PREFER TO CALL US, PLEASE CALL 503-288-1928 BETWEEN 9AM AND 8PM PACIFIC STANDARD TIME.