PARROTS
At The Bird Barn, we hand feed and raise our own baby birds from our breeders. We sell our babies when weaned and do not recommend that pet owners buy babies that are not weaned. The list of babies below will include babies currently available and many from years past. Although several of our breeder Greys do talk, they never verbalize to us when egg laying time is near. So we can not be sure about any more babies for sale until we see the blacks of their eyes when we pull them from the nest box at three weeks of age for handfeeding, which is about when their eyes start to open.
Click on thumbnails with blue boarder for larger pictures.
Feel free to check our website every few months or send us an e-mail with a request to be put on our notification list when babies become available. Be sure to include the e-mail address (es) you want us to use to contact you and keep them current.
OUR BABIES THAT HAVE GONE TO THEIR PERMANENT HOMES
BARE EYED COCKATOO
Fairly rare in the pet trade, reputation of being the best talker of the Cockatoos along with sociable, sweet and playful.
2018 Congo African Grey Babies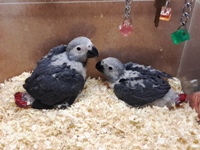 2017 Congo African Grey Babies
Congo African Grey Babies Hatched December 2016
Early 2016 Congo African Grey Babies
2015 Congo African Grey Babies
2014 Congo African Grey Babies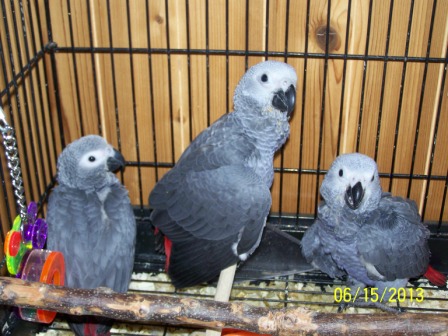 2013 Congo African Grey Babies
2006 Congo African Grey Babies
More Congo African Greys.
Breeders for Sale - Call or E-mail us as to what you need.
We have 3 Blue Front Amazons for sale at this time, 2 males and 1 hen, all 3 for $500.
Discounts given on multiple sales.